Rotary Telephone Emulator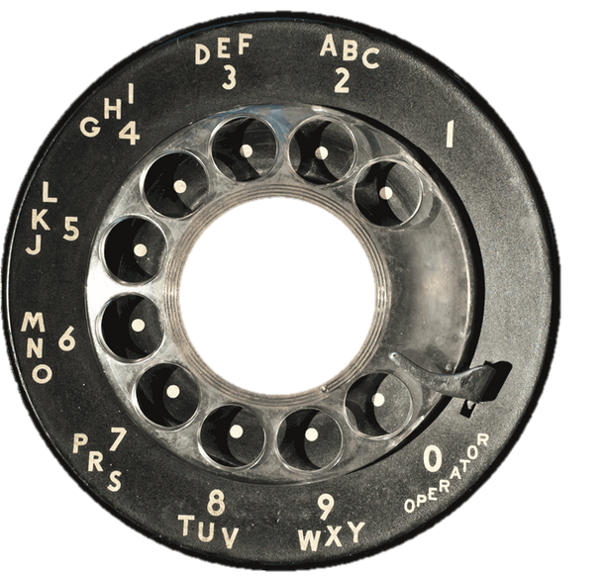 Feature Log:
Virtual switchhook consisting of a clickable button. You may also use the SPACE button to toggle line status.
Rotary dial is made 20% visible when a digit is dialed and becomes fully visible once the dial returns to normal
Further digits cannot be dialed and will not be received while the dial is winding or returning (when the dial is not 100% visible)
Digits can be dialed by clicking the appropriate fingerhole on the rotary dial
Digits can also be dialed by pressing the corresponding numeric or alphanumeric key on your keyboard (number row, numberpad, and alphabetic keys will all work)
Digits may be dialed even after dialing is finished; this is allowed intentionally to mirror reality
When dial tone times out (after ~30 seconds), crybaby tone is played indefinitely and numbers can no longer be dialed
958 is the ringback number
911 intercept message
Calls to numbers ending with '9' will be busy
There is a 15% chance of all circuits busy on long distance calls
1 (262) 650-9990 will always trigger all circuits busy
Allows for operator-assisted calls (operator-assisted calls are not validated before being placed, but number analysis is still performed when the call is placed; for instance, dialing 911 will immediately complete, meaning 9111 could not be called using the dial; 9111 can be called operator-assisted but is still processed normally)
MF digits play on long-distance calls
Dialing the only number in the 710 NPA will prompt for a PIN: phreaks in the know will be able to access an NPSTN trunk
Allows dialing certain 0xx/1xx calls, i.e. 121, 131, 141
Reorder if 0 is 2nd digit
Reorder if 1 is 2nd digit and 3rd digit is not 1
Dial plan allots for calls to: 0, N11, 7D, 11D (1+NPA+7D)
Digit validation is performed at numerous points (1 digit, 2 digits, 3 digits, 7 digits, 11 digits) for more realistic digit-by-digit validation typical of a step-by-step telephone switch
Current Bugs
Hanging up using "switchhook" does not stop currently playing audio files unless they are short and looped: have hanging up stop ALL audio files - create eventlistener to stop every possible audio file? (currently checks to play again, not stop)
Problems with setTimeout() not working properly for long-distance calls/MFing (next function is starting before timeout would ~permit)
Next Steps:
SF Digits to follow MF digits on certain long-distance calls?
Use API (WebRTC) to connect GETS # to NPSTN Conference #
Implement 555-1212, both locally and 1+NPA+555-1212
Utilize all MP3 files — i.e. facilities trouble recording
Implementation of 0xx/1xx codes, i.e. 121, 131, 141, etc. (call completition upon 10 digits or 11 digits?)
Cross-browser testing needed
Typewriter font for this webpage? Why not?